First International Conference about Agile Methodologies in Prague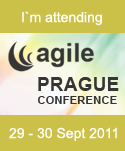 Whether you are a skilled project manager or just a developer that wants to learn something about Agile, don't miss the chance to come to the International Conference Agile Prague 2011 (Sep 29-30). You will meet a wide spectrum of experts, speaking about such interesting topics as Introducing Agile to European Institutions (does anyone believe it's possible?) or Agile Leadership.

Developers might find useful information in UX session or just chat with J.B. Rainsberger, the author of JUnit Recipes during keynote and un-conference.

Does it sound interesting?

Register now to get Early Bird discount!