Agile Facilitation Workshop
Duration: 1 day
Capacity: up to 20 people
Agile Facilitation Workshop is one day hands-on practical class where we go through Facilitation Framework, understand the role of facilitator and try to facilitate different situations from the work-life of Agile teams. We discuss difficult situations, and techniques to handle dysfunctions.
At the end of training you will
Understand the Facilitation Framework and be able to apply it at Agile/Scrum environment
Appreciate Facilitator Stance
Experience techniques how to expand space, and narrow it back by facilitation
Learn tools how to handle dysfunctions
Try several techniques how to engage participants and make meetings more smooth, fun and efficient
The course is for
Course is for everyone who is running any meeting. The examples, situations and exercises are from Agile and Scrum environment. It's awesome opportunity for Scrum Masters, Scrum team coaches, Agile Coaches, Managers, Product Owners, Project Leaders, or team members to strengthen their facilitation skills, gain experience with facilitation under different circumstances and make team meeting more efficient and fun. The class is a great preparation to become a Certified Agile Coach (CAC) - Scrum Alliance Certified Team Coach (CTC) or Certified Enterprise Coach (CEC).
Registration - Agile, Lean, Scrum, Kanban courses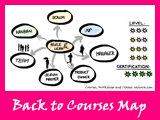 For more details or individual company training tailored to your situation please contact us.
Register to public courses and workshops >.