Agile Methods and Scrum Process
Blog on Agile, Lean, Scrum, Kanban
You can have a look to my blog: Zuzi's blog - Agile, Scrum, XP @ Business (Sorry for that, but it's Czech only.)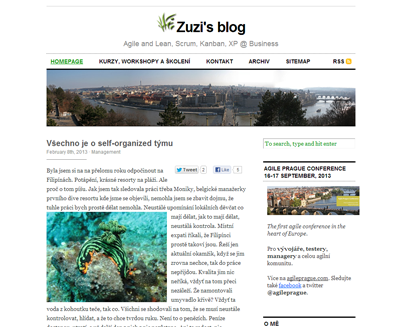 Or check new english blog at tulming.com - Blog about Agile and Lean.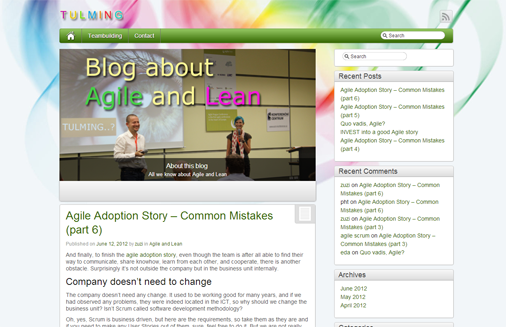 courses | workshops | trainings
Here is an overview of standard courses and workshops, but all courses can be updated to the particular company needs and expectations.
Overview of project management methods (Critical chain, constrains management, agile methods and Scrum process) Theoretical background. Course should give an overview of modern methods of project and team management.
Starting agile methods (agile manifest, XP practices, Scrum process). Theoretical background. Course should help the participant to answer whether they want to change their processes and adopt agile methods. Understanding of core of agile methods on simple environment.
Agile methods and Scrum process advanced (agile manifest, agile methods, XP, Scrum). Theoretical background and discussions of practical case studies of participants. All practices are discussed in complex environment.
Workshop on adopting agile methods in the company. Practical workshop on how Scrum process should be adopted within the company.
Consultancy on adopting agile methods. Ongoing mid- and longer-term consultancy on adopting agile methods. Helping the company to be successful in agile adoption, supporting the decision makers, managers and teams in defining the right processes.
Individual coaching. Supporting the learning process of managers, team leaders and individuals. Help them with decision making and strategy creation process.
Public czech courses can be ordered here. For English or company courses, workshops, consultancy or coaching contact me.
Other Workshops and Courses: