Course – Scrum Process – for Scrum Masters, Product Owners
LEARNING OUTCOMES
Inspire the participants with the best practice procedures in implementing Scrum process and agile methods;
Enable the participants to try model situations;
Discuss the real case-studies of the participants.
Position: Scrum Master, Product Owner, developers, testers with agile environment knowhow and preferably Scrum experience.
Number of participants: 5 to 10
Duration of the course: 1 day, usually from 9 a.m. to 4 p.m., 4 blocks with one hour of lunch break.

Learning Outcomes
Introduction, why did we implement agile methods;
Scrum process - discussion, experiences, expectations:

Sprint cycle, planning, estimations, task evaluation, burn downs, customer demo;
Backlog and user story;
Team cooperation and customer role.

Roles in the project

Scrum Master, Product Owner, responsibilities and organization of team;
Motivation;
Organization structure;

Retrospective - why we do retrospective and how it works;
Planning Poker and other evaluations methods;
Agility and psychology;
Scrum game.
Part of the workshop is a discussion about how to best implement the Scrum process in the real environment of the customer:
Which methods to choose;
Parameters of Scrum process;
How to involve the customer;
Tools.
The contents of the course will be modified according to the customer needs.
Registration - Agile, Lean, Scrum, Kanban courses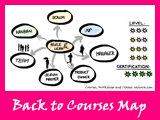 For more details or individual company training tailored to your situation please contact us.
Register to public courses and workshops >.