CSM - Certified Scrum Master course
CSM - Certified Scrum Master course - is trained by Scrum Alliance certified trainer CST and you will definitely enjoy it. It's not any boring powerpoint class, it's an interactive workshop full of simulations, conversations, and facilitated experience sharing.
This class is a pre-requisite of the A-CSM - Advanced Certified Scrum Master course.
We look at Scrum from the ScrumMaster point of view, covering several concepts on how to build a great team, #ScrumMasterWay, and ScrumMaster State of Mind model.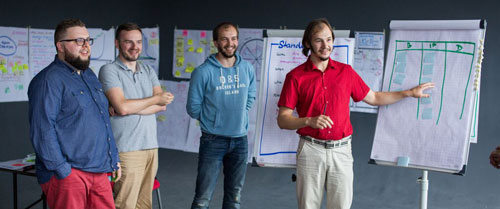 From now you can join the course not only in English but Czech as well.
You will understand the Agile mindset and culture from a different angle, learn new principles and get new ideas. The course is interactive full of simulations, exercises, and games.
After the training you will fully understand the Scrum process, your role as a Scrum Master, and will be ready to apply Agile and Scrum principles to your company and environment.
Certification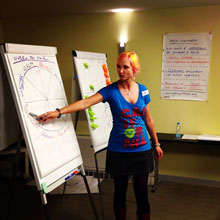 At the end of the course, you will get a Scrum Alliance certification - Certified Scrum Master. There are two free attempts to finalize the online test at the Scrum Alliance website for every CSM course participants included in the price. You shall pass a test within 90 days. To get a passing score, you must correctly answer 24 of the 35 questions. As soon as you pass the test you will gain the Certified Scrum Master certification and one year complementary Scrum Alliance membership for 2 years.
The course is for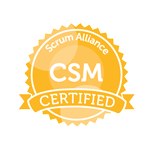 The course is for everyone who is currently working, cooperating with the Scrum team or planning to implement Scrum in their organization. It's an awesome opportunity for ScrumMasters to strengthen their experience, Scrum team coaches to get new ideas or people involved in the Scrum implementation at your organization to enhance their know-how.
Developers
Testers
Architects
Managers
Technical writers
Project Managers
Directors
Entrepreneurs
Any team members in your organization
Anyone interested in Scrum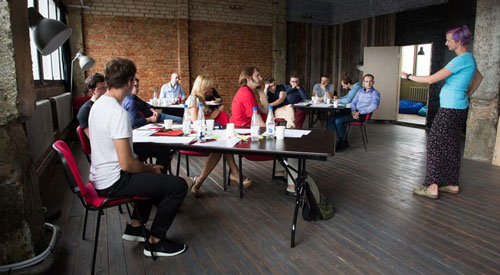 Agenda
During the 2 day workshop, we are looking at Scrum from the ScrumMaster point of view. We go through all Scrum artifacts and celebrations, we look at the role of Development team, Product Owner, and ScrumMaster role. We practice several concepts on how to build a great team, #ScrumMasterWay, and ScrumMaster State of Mind model.
Agile Manifesto and Agile practices
Scrum Basics
Scrum Meetings
Development Team role
Product Owner role
Scrum Master role
Self-organization and how to achieve it
Team theory
The #ScrumMasterWay concept,
ScrumMaster State of mind model,
Product Backlog and User Stories, Estimating and Planning
Definition of Done
Definition of Ready
Scrum Adoption at your company
Best practices and recommendations on how to apply it
The class is practical, full of simulations and examples from real life.
Materials
After the course, you will get photos of flipcharts.
The class is a great preparation to become a Certified Agile Coach (CAC) - Scrum Alliance Certified Team Coach (CTC) or Certified Enterprise Coach (CEC).
References

"Good course, I appreciate a lot of visual explanations, practical examples from real projects, discussions and simulations. I learned many practical hints which can be applied back at my work. Thank you! "
Tomas, Project Manager

"Thank you for wonderful workshop, I appreciated the practical exercises and examples. "
J.K., ScrumMaster

 "Excellent! The trainer has deep knowledge of Scrum and Agile."
J.T., Director

"Very nice workshop. I especially appreciated practical experiences of the trainer."
A. R., SW Developer
Registration - Agile, Lean, Scrum, Kanban courses
For more details or individual company training tailored to your situation please contact us.
Register for public courses and workshops.