Workshop Starting Scrum
Position: Directors, Team leaders, Project managers, developers, testers - who are starting agile and Scrum.
Capacity: 5 - 12
Time: 1 day, 9am-4pm, 4 blocks with 1 hour lunch break.

Agile methods become popular in all different segments of IT industry. As the business is changing faster, it expect from you to be flexible and adapt to the new conditions fast. Are you suffering from poor quality, low flexibility, inefficiency or lack of customer satisfaction? Are your projects failing or do you feel you can be better?

During the practical workshop "Starting Agile" you will understand the core principles of agile methods, learn how Scrum process works, and in the end be able to decide, if you like to consider changing your processes into agile and what do you expect from such change. During the day, you will be able to try some agile aspects at the training and directly compare the method with your current processes and create a list of initial steps for agile adoption in your company.

Agile is not just another process, it's a new way of thinking; it's a new culture, new philosophy.
Learning Outcomes
- what does it mean to be Agile, how do we make our project successful, what do we expect from Agile
- why Scrum process works, what are the practices
- try Scrum and Agile approach on practical examples,
- discuss in a group agile adoption process in the context of your company.
Program
- Introduction
- Agile methods - compare it with traditional project management methods
- Why should we move agile - practical training.

BREAK
- How Scrum works, theory background
- Discussion on the Scrum specifics, product development
LUNCH
- Game - try the Scrum process - work in teams
BREAK
- Retrospective, how we change, how to start agile adoption process
- Discussion in groups, practical case studies, real examples.
Materials
PDF slides will be available online after the course.
Registration - Agile, Lean, Scrum, Kanban courses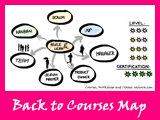 For more details or individual company training tailored to your situation please contact us.
Register to public courses and workshops >.