Training – Agile methods and Scrum process II
Would you like to learn more about Agile methods and Scrum process?
Course provide an overview of Agile methods, Scrum process and Extreme Programming (XP) methods. Learning will be achieved from the discussions between participants and will provide solid knowledge-base for those who are starting agile methods as well as for those who need to improve current process.
Going agile, is not about the technology and particular project specifics, but more about the willingness to accept new ideas, new way of doing things and readiness to change.
Course is designed as an interactive workshop so the participants will directly try the discussed principles. As Agile methods are about the principles which may vary between the companies, teams and projects; the course will cover real case-studies from different business and company cultures as well.
Position: Directors, Team leaders, Project managers, developers, testers - who are using agile in their daily life. Course is great value for those who are already certified Scrum Masters (CSM) and certified Product Owners (CPO).
Capacity: 5 - 12
Time: 2 days, 9am-4pm, 4 blocks wirh 1 hour lunch break.
Learning outcomes
Complex knowhow of XP methods and Scrum process to be able to successfully start an agile project
Best practices of agile adoption, what went well and what didn't. How to start Scrum process.
Directly try agile principles for model situations
Discussion and case-studies
Program
Introduction. Company culture. Me and agile methods. What is good, what should we improve.
Agile methods and Scrum process, Agile Manifesto. How to organize the team, improve efficiency and quality.
Team cooperation methods, planning process, estimation.
Self-organized team, planning and priority, retrospective, customer involvement.
Agile coaching, negotiation process. Agile connection.
Planning poker and other estimation methods.
Discussion, games and case-studies.
During the course, we can discuss your particular case and let the other participants to help you from their experiences on :
chosen methods,
parameters of Scrum process,
customer involvement,
tools.
Materials
PDF slides will be available online after the course.
Registration - Agile, Lean, Scrum, Kanban courses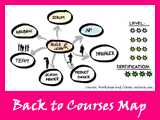 For more details or individual company training tailored to your situation please contact us.
Register to public courses and workshops >.