Courses Registration
Public Courses, Workshops and Trainings
See Czech public courses and trainings here.
We organize practical workshops, courses and certification classes on Agile, Scrum and Scaling Scrum, Extreme Programming (XP) practices, and Kanban. All classes are practical, full of engaging discussions and sharing experiences.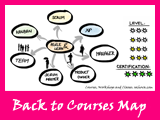 The focus is on application of principles at your environment, inspiration of good practices and recommendations from different environments. Classes, courses and workshops are designed for managers, entrepreneurs, Scrum Masters, Coaches, Product Owners, or team members - developers and testers.
Public Courses, Workshops and Trainings - 2017 and 2018
See the list of public classes. For internal company workshops please contact us.
Certification Public Courses:
See the list of actual selected public certification classes. For internal company certification class offer please contact us.