Selected Talks Overview
Looking for some interesting keynote, talk or workshop? You can have a look to videos from some of my keynotes and talks, or slides and short abstracts below.
Keynote: Great ScrumMaster
Great teams make a huge difference to your company's success. Great ScrumMasters create such high-performing teams.
I will tell you some of the secrets you need to know to become a great ScrumMaster. Create a high-performing collaborative environment at your organization, which makes your organization more than competitive in the current complex globalized world.
This session is targeted to all leaders of Agile transformation, Agile Coaches, and ScrumMasters who understand the Agile basics but have the dream of achieving significantly better results with Agile/Scrum.
The session is based on my book The Great ScrumMaster, published by Addison-Wesley, Signature Series (Cohn) on Jan 2017. The Great ScrumMaster - #ScrumMasterWay.
LO:
Discover ways to become a great ScrumMaster to skyrocket team and organizational performance
Recognize competences and metaskills
Define the ultimate one goal of great ScrumMaster
Realize the leadership and culture implications requested as a consequence of the mind shift
Understand and be able to apply the ScrumMaster State of Mind model and be aware of the #ScrumMasterWay concept as a path to personal development and growth
Keynote at Lean and Agile ME Summit Dubai 2018, Agile Daus Moscow 2018, Agile Austria 2017, Agile Slovenia 2015, Agile Tour Belarus 2015, talk at Scrum Gathering Dublin 2017
Keynote: Learning from Mistakes
When I started I wasn't well prepared. I took agile as another buzzword. And it was not an easy change. Neither for me, nor for the people around me. Agile is a journey. It takes time until you embrace it and realize what are all the values and principles about.
In this talk we explore together the experiments we did and mistakes we learned on our agile journey. It took me several years to realize it took me many experiments to learn. But step by step I become better in building teams, understanding the business value mindset, and helping organizations to embrace business agility. In other words help organizations get ready to whatever future brings.
Everyone is a Leader
Unleash Your Agile Leadership Potential and Guide Your Entire Organization Toward Agility
Leadership is one the most significant challenges to business agility adoption faced by organizations. It's is a key factor―individuals who welcome complexity and know how to leverage influence, culture, and organizational design to align widely distributed teams are integral to the success.
In this talk Zuzi will share her experience with changing organizations, embracing business agility and helping others to develop a new leadership style. The talk is based on her book The Agile Leader: Leveraging the Power of Influence.
LO:
- How to leverage the power of influence
- Where do you need to grow as a leader
- Understanding the key culture shifts in an agile organization
Keynote: HR Goes Agile
Agile HR or Talent Management as we call it in Agile organizations turn the entire organization around. It's employees centric, delivering value to the whole organization. At a glance, not much had changed. We still need to hire people, take care of people growth, do evaluations. Only the way we work changed significantly as the focus shifted to support the overall employee experience. Interested in what does that mean? Let me guide you through the change of mindset, practices, and tips on how to build the new Agile HR.
Learning Objectives:
Understand the fundamental need behind the Agile HR shift
Be aware of how HR can help the organization to change the mindset
Know what practices to avoid
Get a number of useful practices to become your Agile HR journey
Older talks....
Here is a list of some older talks I did at the conferences. They were replaced by the new ones and are here only as a history .... :)
Keynote: Agile Leadership
In order to change an organization, leaders have to change first. Be one of them and turn your organization into a successful Agile organization.
Abstract:
In today's complex, fast-changing, and unpredictable world, radically agile organizations thrive when they combine strong local autonomy with deeply shared goals. Leadership is a key factor―individuals who welcome complexity and know how to leverage influence, culture, and organizational design to align widely distributed teams are integral to success.
Let's hear a few stories from forming an agile organization.
LO:
Understand the culture model, how the two halves of mindset and structure are wired together and what are the implication of that for the leader.
Learn how the culture mirrors the leadership style.
Raise awareness of Agile Leader competencies and metaskills.
Keynote: Agile Organization - Organization 3.0
The rules of work are changing. Agile Organization - Organization 3.0 reflects Agility, an understanding of tribal leadership models, and a recognition that new rules are needed to navigate new organizations that are changing the world today. Teamwork, collaboration, and positive relationships are what matter. If you cannot adopt the new standards, you will be left behind.

Previous organizational structures and processes also reflected their times. Organization 1.0, showed the mentality of industrialism, with stable hierarchies and rule following the norm. Organization 2.0 rewarded specialization, processes, and structure over teams and groups. The "me first" workplace served the lucky few, but is now being replaced by a new generation, with a more thoughtful organization of our lives and work. The talk is based on concepts described in my new book The Great ScrumMaster - #ScrumMasterWay.

Learning Objectives:

* Know the different leadership styles, including leader-leader and leader-follower
* Learn to navigate within the stages of the tribal leadership model
* Understand and promote positivity in your company environment
* Identify 4 team toxins, and apply the antidotes
* Operate in the dynamics of Organization 3.0
Presented at AgileEE 2016.
Communication
Communication is the crucial part of our life. Agile organizations and Scrum teams make interaction amoung people as one of the core principles. The fact is that speaking the same language doesn't guarantee the understanding of each other's points. This talk shows typical communication patterns, behaviors and provides eye-opening insights into the ways communication can improved. The talk is based on concepts described in my new book The Great ScrumMaster - #ScrumMasterWay.
Chef's team
Exceptional restaurants are built on team spirit of collaboration, experiments, and extreme customer focus which makes them Agile. Surprising, right? 

I've been observing how the best from the best places where you can eat run their business. I've been visiting many Michelin star restaurants and the exceptionally rated places across the world to see how they work, how they collaborate and what makes them so exceptional. I've been speaking with their chefs, service, and team members. Surprisingly, all of them have exceptional teams and focus on collaboration. All of them were not afraid to experiment. They invested in the growth of their people, and constantly searching for improvement, eager to get feedback. It is always a very intensive experience. They experiment, do things differently than most, looking for perfection. Thus, the product is different, there are similarities on how we work as Agile teams and how they work in those places. In many aspects, we can learn from those teams. 

This session brings you the notion of what this high-performing environment of Michelin star restaurants and exceptionally rated places across the world is about without traveling, waiting till late night to get a reservation and last but not the least covering the bill. I can't share the taste of the food, but I can share my observations, photos, videos and insights from the people I've been speaking with. The food is always awesome, but the way these places work is often even more exciting for me.
The City Game
We invite you to design and build your own city. You will have all the building materials, your colleagues will help you to design the beautiful streets, houses, parks and you will have a chance to become a master architect of the city. Of course, there are some limits and constraints, but your clever ideas and brave heart will become the key to your success.
This brand new game will help you to understand the basic and some advanced concepts of communication in the team. You will discover the power of sharing information, working on priorities and the importance of retrospectives and listening to the customer feedback. As a reward you will have a chance to get a photo of you and your team with your city and enter the contest for the "City Of The Year".
No prior knowledge of any of agile techniques is required, all materials and tools will be provided.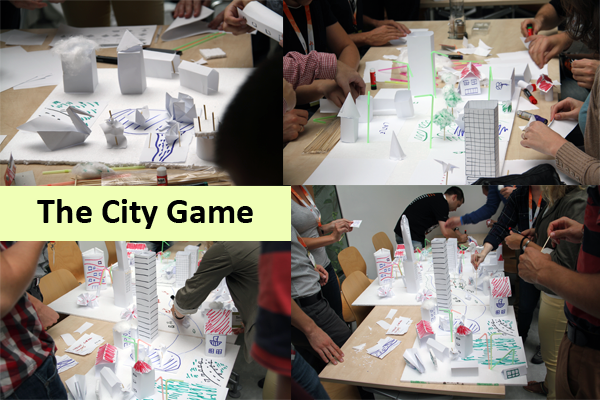 Tribes
Being a good team isn't easy. Apply the principles at the organizational level is even harder.
Abstract
The book Tribal Leadership is not very much known in Scrum community but the understanding of the dominant tribe culture in the company would help coaches to choose the right approach in Scrum organizational transformation.
Every organization has tribes. And every tribe has it's rules and believes. Lets walk through them during this workshop and try how it is to be part of every tribe. Through that journey you can better understand how you can help others to move one tribe up.
Mastering Retrospective
When I started with Agile and Scrum back at 2005, I was not much different from any other agile newbie, and I was complaining for having regular retrospective. "What for? We are already sitting together, we are a good team, we tell each other what should be said. It's waste of time. Formal meeting..." . Later I realized this practice is quite useful and implemented it as one of the key practices.
Lately, during past few years of my work as Agile Coach I realized I do retrospective with new agile teams and simply any group of people very often to start communication and build a first cornerstone of agile mindset - openness and trust to each other. I must admit it delivers great results which I never can achieve without Retrospective.
During this talk I will share with you my experiences how to become 'master of retrospectives' and how to use it in all rank of different situations.
Presented at ACE 2014 Conference
Tulming Travel Board Game
Teaser
Have you already read everything about implementation of iterative development methodologies, such as Agile and Scrum? Do you need to get a different perspective on the most common practices and try the Agile and Scrum principles in a safe environment outside of Software Engineering? Here is your unique chance to achieve all of this in one session.
Join us at brand new board game and and build railroads, airports, harbours and much more during our newly designed, interactive Tulming Travel Game. Use your knowledge and the basic Agile principles to satisfy your customer, overcome various acts of God and become the master of Travel.
Short Abstract
Tulming Travel Game is an interactive board game designed to enable the players to use the Agile & Scrum practices in a non-software field. The hand drawn map, hand-drawn cards with cities, harbours and various stations provide a unique experience to players at all levels of knowledge and experience. The goal of the game is to build a virtual Travel agency that, based on a customer wishes, connect cities around the globe to allow the customer to travel freely and safely. As in other board games, there are several events that either prohibit or speed up the building progress and create a true randomness feeling of a real life.
The game is an ideal learning tool to understand Agile mindset and embrace the culture of team collaboration and open communication. The learning has never been so easy, fast and fun.
There is limitation for the game - maximum of four tables, which means 48 participants in total in the game.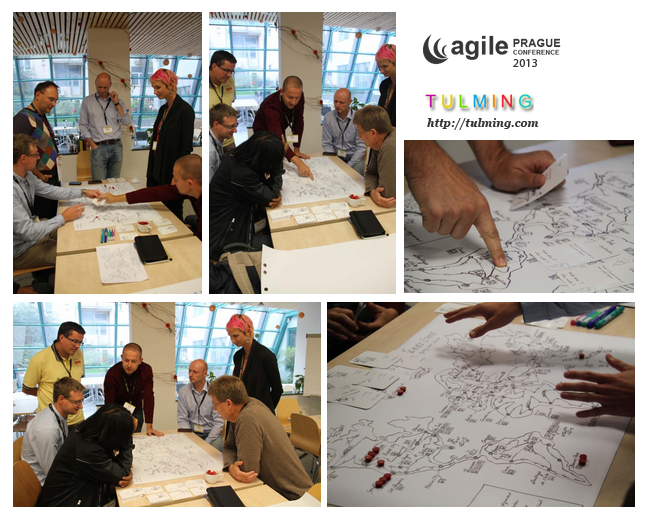 Coaching Starter
Did you ever want to start with coaching your teams but you never knew how? This is your unique chance to get the coaching basics in the condensed form and a friendly way. You will learn, how to listen more effectively, ask the open questions and apply a simple framework – GROW – to the session. In an hour you will get the basics – how to get it to the practice will be your task afterward. But no worries, we will provide you with couple simple steps that will get you started.
Agile communication: Back and forth between managers and teams
Presented as an interactive talk, usually with Eduard Kunce.
Everybody agrees these days that communication is one of the key success factors in any project, regardless of their size and complexity. During the agile adoption process, many teams and managers are blind to communication issues and believe everything is working just fine. However, experience suggests that communication is failing at many levels -managers don't really understand their developers, testers and other geeks, who on the other hand often fail to effectively sell their point back to management. Similar situations exist between sales and technical experts or even between developers and testers.

The fact is that speaking the same language doesn't guarantee the understanding of each other's points. This highly-interactive talk shows typical communication patterns, behaviors and provides eye-opening insights into the ways communication can improved Some practical games include the whole audience, which typically makes the session very lively and engaging.
Learning outcomes
- Communication is important - in agile more than at any other methodology ever. We communicate on daily basis with our colleagues in the team, with management, with customer and we should be efficient in that.
- We are often playing communication games, and using communication patterns. Choose how will you response to those patterns, choose your attitude, it's just about your head.
Presented in different forms at ALE 2011 Berlin, XPDay London 2011, Agile Prague 2011, Scrum User Group NYC, USA., Agile Riga Day 2012 Latvia, Agileee 2012 Kiev, Ukrain.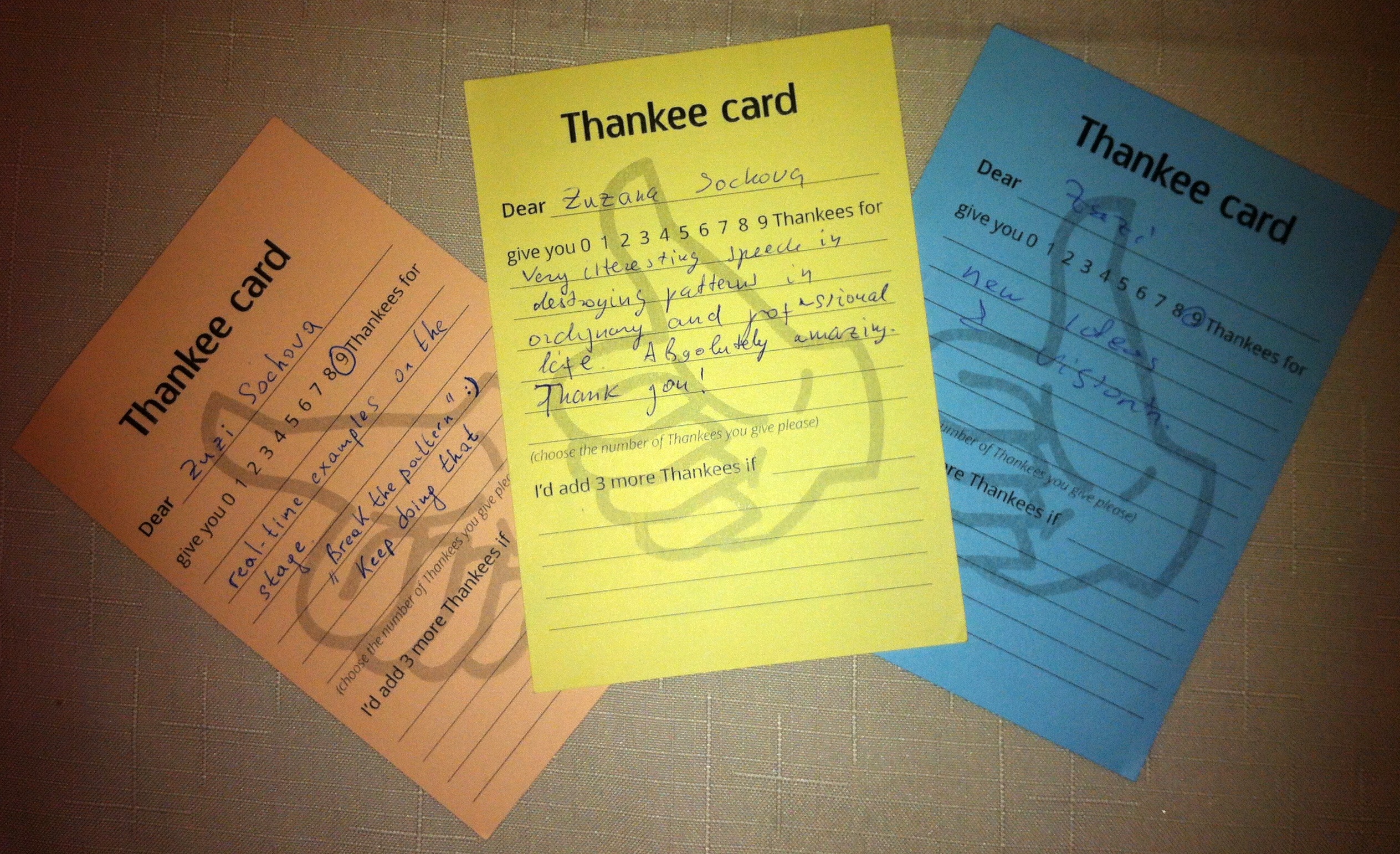 Tulming Agile Airplane Manufacturer
Have you already seen and played everything? Do you like to travel, do you like airplanes? Than are going to love this workshop. Try a new game – agile airplane manufacturer!
Try this exciting game and learn, how to better cooperate in the team and how to handle multiple agile teams within your organization. Be responsible for the product development and make your company profitable. During the game, you will experience the thrill of building the right team, establishing the effective cooperation within the team as well as communication with the customer.
You will practically experience how things can get complicated, when more teams need to cooperate. In a safe environment, you will try and test methods to better organize multiple agile teams, structure them around the product to achieve the company goals. You will experience how small decision or ineffectiveness can lead to customer dissatisfaction and financial loss.
At the end of the increment block, you'll get a direct feedback from the customer on your final product and also some helpful communication hints & tips; which become very handy in the next part of the game.
Organized at Agile Prague Conference 2012 and many internal company workkshops.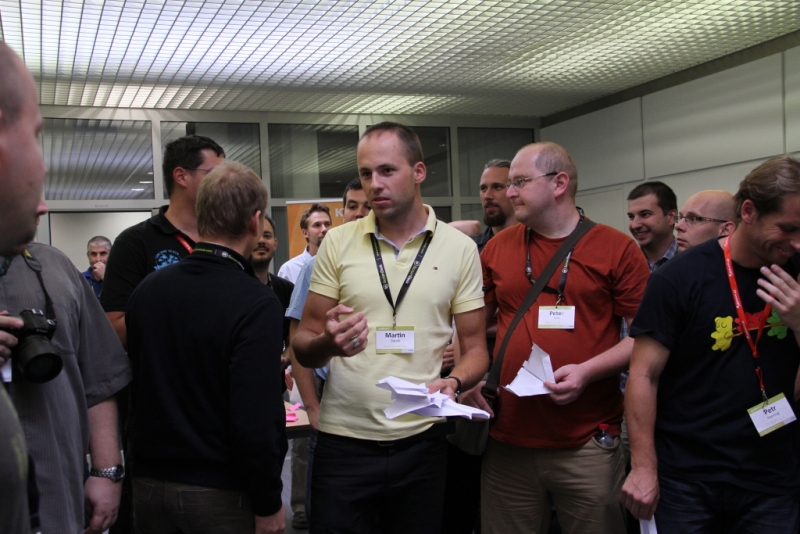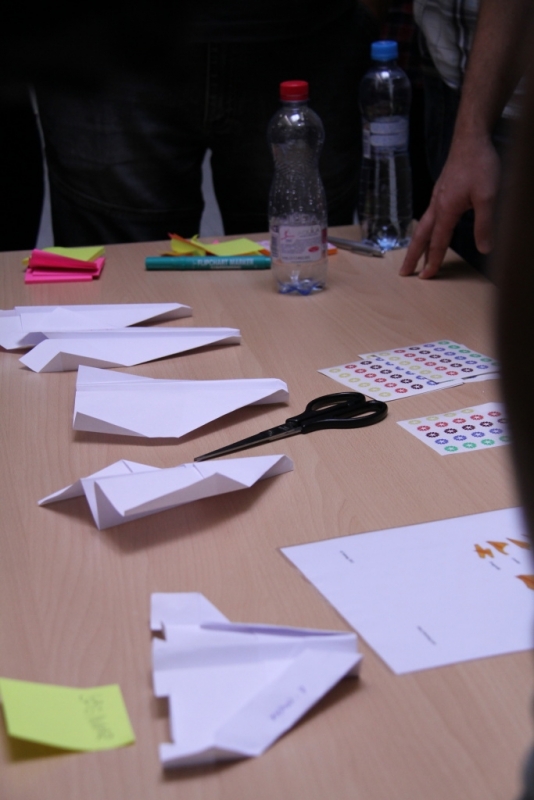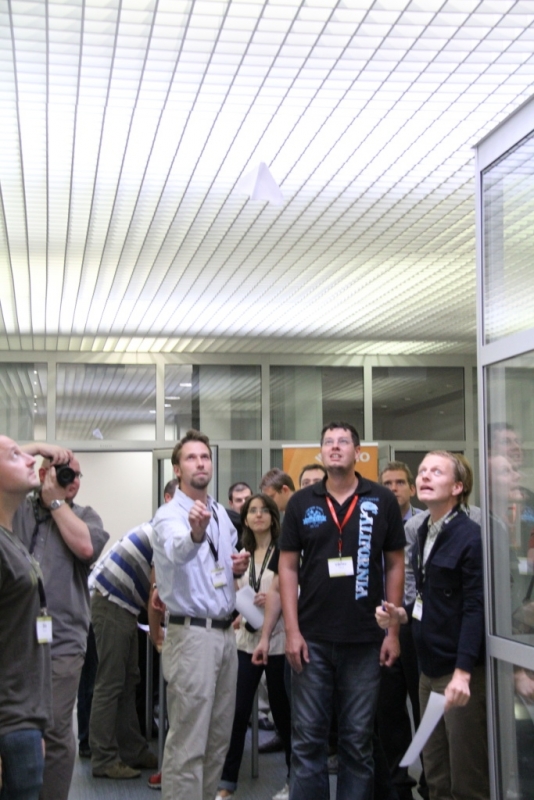 Practical Scrum Master Guide on Agile Coaching
Level: Practicing
Abstract: During this talk you find out how to coach your teams to become more Agile. Firstly we refresh the basic coaching principles and role of a coach and coachee. Secondly we will be talking about the application of coaching principles in the team, applying those to agile cultures, and adjusting them to the company environment. The "Practical Scrum Master Guide on Agile Coaching" is focused on application of coaching principles to the basic situations of agile environment - self-organizing culture, responsibility and commitments and change awareness.

Process/Mechanics: The talk is desired as a practical talk, where the speakers sharing their experiences with coaching in both small companies, and large enterprises. We will go through the coaching principles step by step, and lead the audience through the coaching process, letting them understand the GROW model, SMARTER goals and apply those to the agile environment. Firstly we address the key building block of successful agile application - the self-organized team. Then we address the life of team commitment, how it grows and how to make it really challenging. After that, we continue with another of the key agile principles - the continuous change awareness.

As we present there as two speakers, we can easily play an example dialog and show the audience the real life situations.

We adjust the format a bit to have an introduction of the techniques at the beginning of the talk, so people unfamiliar with the techniques won't get lost, when we have the practical and interactive parts of the talk.

Timeline:
- Introduction (5min)
- Review of the techniques: How coaching works, principles of coaching, role of a coach and coachee (5min)
- Understand the GROW model, SMARTER goals and apply those to the agile environment (10min)
- Implementing and supporting self-organizing culture (20min)
- The life of team commitments, how to improve them make them challenging and valuable (15min)
- The world is changing all the time, so be prepare to change a process, or product anytime. (15min)
- Coaching dynamics and principles in small teams vs. large enterprises (15min)
- Summary of learning outcomes (5min)

Learning outcomes:
- How to support self-organizing culture, providing your team more options from which to select, learn them to discover their own way.
- How to get higher responsibility for the everyday personal commitments, team commitments, and last but not least how to overtake responsibility for the product itself.
- How to improve change awareness, and relax in fast changing environment.
- Coaching principles in small teams.
- Coaching in large enterprises.
The session is in preparation for Agile India 2012 with Eduard Kunce.
Top 5 Agile Adoption Process Mistakes
The implementation of agile methods can differ per organizations and teams; however patterns of agility are universal. There is no cookbook how to adopt agile methods, but indeed there are some better and easier ways how to get there. And there are some, which you should better avoid. During this talk, we will address the most common agile adoption failures reasons. However the agile processes are different in every company, the failure reasons are universal.

This talk will show the most common reasons for an agile adoption process failure within organizations. We will go through the top 5 most common mistakes which were observed during past few years in both small companies and huge enterprises. Learn by example, be better next time.
Scaling Scrum into Half-Day Sprint
Do you work for an extremely changing and flexible environment? Do you need a possibility to deliver value to the customer twice a day in order to get fast feedback and be able to finish the whole final product in less than week time?
Well, we implemented such process in one small startup company and it just worked great! It's based on heavy communication, good team collaboration and it brought extreme customer satisfaction.
Scaling the Scrum process into half-day sprint is not common, but it brought us an outstanding result. I would like to share my experiences with the audience. Why we choose this way and how we did it.
Success metrics of enterprise agile adoption and offshoring
Building an agile team in a worldwide enterprise is indeed difficult and complex task, however when it succeed the result is outstanding; all the culture differences which could be perceived as obstacles at first, are turned into huge benefits. Such team is stronger and more powerful than usual small teams. One of the key factors of building successful global agile teams across the continents is the ability of defining good process guidelines and right metrics. How shall we recognize that we have a good and mature agile team? How do we know? What are the process guidelines we have to implement in such environments?
The talk is based on experiences from agile transformation of huge enterprises based in the USA or Europe, having the benefit of using teams in India.
Learning outcomes:
How to build successful agile team in a worldwide enterprise
How to defining good process guidelines and right metrics
How to handle multicultural environment and gain out of that