Agile Coaching Workshop
Duration: 1 day
Capacity: up to 20 people
Agile Coaching Workshop is one day hands-on practical class where we deep-dive into coaching. Through several rounds of group exercises we go through GROW model. During the exercises we use concept of Powerful Questions, we introduce Coaching Stance and three Levels of Listening. You will have enough time coaching each other on different Agile / Scrum environment. You'll experience the difference between coaching and mentoring and discuss how to overcome complains and resistance.
At the end of training you will
Understand the GROW framework and be able to apply it at Agile/Scrum environment
Appreciate Coaching Stance
Experience Powerful questions
Understand and try three levels of listening
Experience the difference between coaching and mentoring
Understand the ways how to work with resistance and complains
The course is for
Course is for everyone who is willing to get more experiences with coaching. The examples, situations and exercises are from Agile and Scrum environment. It's awesome opportunity for Scrum Masters, Scrum team coaches, Agile Coaches, Managers, Product Owners, Project Leaders, or team members to strengthen their coaching skills, gain experience with powerful questions and GROW model and try coaching in safe environment of coaching workshop.
The class is a great preparation to become a Certified Agile Coach (CAC) - Scrum Alliance Certified Team Coach (CTC) or Certified Enterprise Coach (CEC).
Registration - Agile, Lean, Scrum, Kanban courses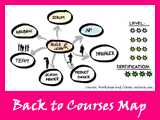 For more details or individual company training tailored to your situation please contact us.
Register to public courses and workshops >.